Argo: From Classified CIA Files to Hollywood Movie
The Scene: Los Angeles
Tuesday, December 04, 2012 - 12:00 PM
From KCRW's The Business, hosted by Kim Masters
David Klawans is a little-known producer who's more comfortable spending 10 hours a day researching than shmoozing at a lunch. In fact, his unique approach to finding true stories for Hollywood movies is reminiscent of a detective piecing together parts of a puzzle.
Klawans tells KCRW's Darby Maloney that he discovered the true story of Argo back in the late 1990's when the CIA mission was first declassified by Clinton. But he couldn't sell it to Hollywood the traditional way. Noticing that studios were optioning magazine articles he decided to create his own article. Klawans paired up with reporter Joshuah Bearman to write a piece about the Argo mission for Wired magazine. Then Hollywood came calling.
In the meantime, Klawans turned another true story into the 2006 Jack Black comedy Nacho Libre. The way he got the rights to the Mexican Padre/Lucha Libre wrestler for that film is a lesson in pure chutzpah.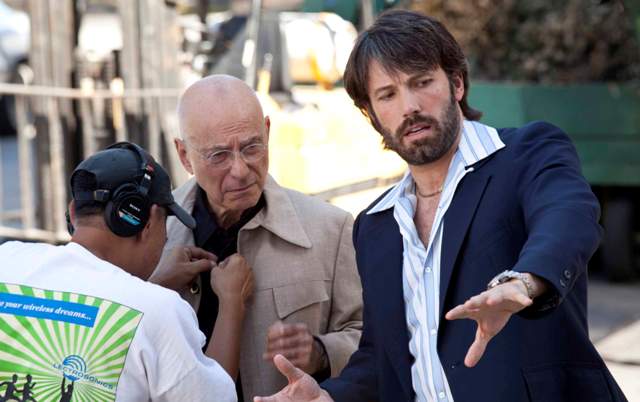 Alan Arkin and Ben Affleck (as Tony Mendez) on the set of
Argo
(
Warner Bros
)
More in: