Artists and Scientists Riff on Water
Blog: 07.18.12
Wednesday, July 18, 2012 - 06:00 AM
(Science Gallery, Trinity College Dublin)
Drink local. That's the message of artist Colin Hart, whose public art piece lets the bravest New Yorkers sample water from the Hudson River. (Don't worry, the murky brown liquid has been filtered to be crystal clear and safe to drink.) Hart's piece is part of an exhibit called Surface Tension that focuses on water: its movement, its growing scarcity, its contaminants, and its power to heal.
The exhibit is housed at the Eyebeam Art + Technology Center in Chelsea, a stone's throw from the muddy waters made drinkable in Hart's piece. But it was created by Dublin's Science Gallery. "New things can emerge from the collaboration [between science and art]," explains founding director Michael John Gorman. "Something unanticipated can emerge." That unexpected something might be a new insight, a new product, or simply a new way of captivating visitors.
David Bowen's "tele-present water," at the Science Gallery, Trinity College Dublin.
No installation melds art and science more seamlessly than David Bowen's "tele-present water." The work consists of a grid suspended from the ceiling by fishing line. Tiny motors help the grid undulate like the ocean's surface. But this installation doesn't just mimic the ocean's movement; it recreates it. The motion is based on real-time data from a National Oceanic and Atmospheric Administration buoy moored in the middle of the Pacific Ocean. "I think of it as aesthetic data," Bowen says.
The Pacific stayed calm during my visit, but on rough days the grid will thrash violently, as visitors found out last year when the piece was installed at the Esther Klein Gallery in Philadelphia. On March 11, Bowen got a call from the curator who told him the piece was "freaking out," Bowen says. Bowen suspects the wild movement was due to the devastating tsunami that struck Japan that day.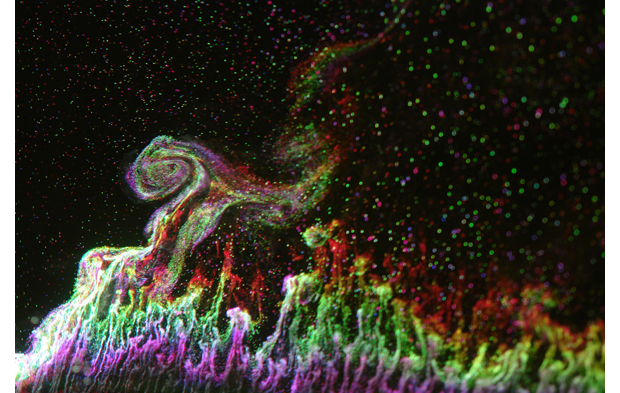 "Hydrogeny" by Evelina Domnitch and Dmitry Gelfand
Another installation, "Hydrogeny," by Evelina Domnitch and Dmitry Gelfand, highlights a different kind of movement. In a glass tank, an electric current splits water into its constituent parts: hydrogen and oxygen. A laser illuminates the tiny hydrogen bubbles as they rise to the surface, revealing a rainbow of shifting swirls and eddies. Water can appear static, but "this laser allows you to see this very delicate, intricate, very beautiful, very alive, and dynamic structure," says Domnitch.
And throughout Surface Tension, you can hear the rhythmic crash of falling water from "BIT.FALL." A machine creates words composed of tiny water droplets that fall like rain from the ceiling. The words may seem random, but they're actually quite timely. A computer trawls news websites and uses a statistical algorithm to select the words. "BIT.FALL"'s steady rhythm is accompanied by ethereal tones from Di Mainstone's "Hydrocordion," an instrument visitors can play by stepping on accordion-like foot pedals and forcing air into water-filled pipes. Squeezing a second accordion against their bellies, visitors can alter the amount of water in the tubes and change the frequency of the tones. 
Other installations display more practical items: a remote-controlled sailboat that pulls an absorbent boom to clean up oil spills; a ceramic water filter that removes microbes; a ship that harvests tiny plastic from the oceans to create plastic chairs. Artist Jon Cohrs and water researcher Morgan Levy tackled another environmental concern: medications in the world's water supplies. The pair collected saltwater near the outlet of a wastewater treatment plant in San Jose and poured it into an evaporation pond. "What you're left with is salt and then pharmaceuticals," Cohrs says, a product they call Alviso's Medicinal All-Salt. The list of drugs in their cure-all is long and includes antibiotics, antidepressants, and much more. "It's an aggregate of what America is taking," Cohrs says. And for $85, a vial can be yours. 
Surface Tension is on view through August 11, 2012.
Slideshow: Surface Tension
More in: