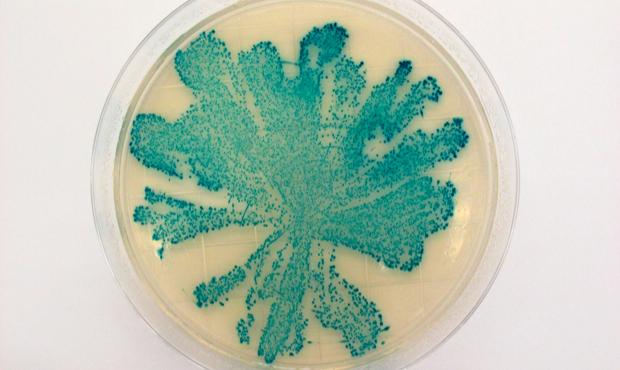 (Amy Chase Gulden/ Lindsay Patterson)
In 1928 the Scottish biologist Alexander Fleming discovered the fungus from which penicillin is derived. Fleming made the discovery while trying an unusual experiment: painting with strains of bacteria. Lindsay Patterson talked with a team that's taking bacterial painting to a new level.
VIDEO: Artist Amy Chase Gulden prints a bacterial painting.
Music Playlist

Woodland Sketches Op.51: To a Wild Rose

Artist:

Performed by Alan Mandel, Composed by Edward MacDowell

Album:

MacDowell: Piano Works

Label: Phoenix USA

Journal for People

Label: Phoenix USA

Sonata No. 2 (Eroica) Op. 50: Tenderly, Longingly, Yet With Passion

Artist:

Performed by Alan Mandel, Composed by Edward MacDowell

Album:

MacDowell: Piano Works

Label: Carpark Records

Sonata No. 4 (Keltic) Op 59: With Naïve Tenderness

Artist:

Performed by Alan Mandel, Composed by Edward MacDowell

Album:

MacDowell: Piano Works