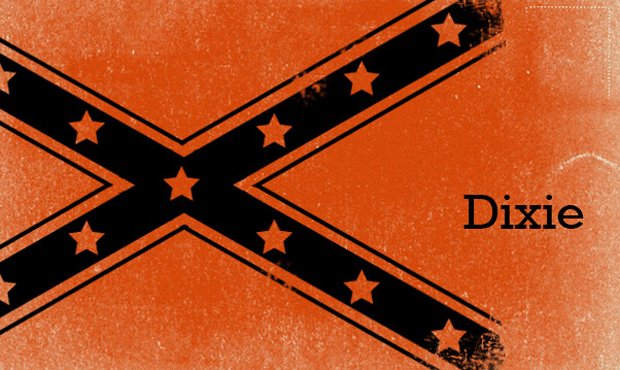 This is the tune the nation brought to war.
"

People are now denied the use of the song because the 'politically correct' say that it is offensive. It's a form of cultural genocide.

— South Carolina State Senator Glenn McConnell on "Dixie"
It's been a century-and-a-half since a minstrel tune called "Dixie" debuted in New York.  The song went viral, and soon North and South alike were whistling "Dixie."  With the outbreak of the Civil War, "Dixie" became an anthem of the antebellum way of life.  And today we are still fighting over "Dixie."  Studio 360's Trey Kay asks why it continues to divide the nation.
Bonus Track: Elvis Sings "Dixie"
Elvis Presley sings "Dixie" as part of the song "American Trilogy."
Bonus Track: "Union Dixie"
"Dixie" was popular in the North and the South.  Bobby Horton performs this version, just for Yankees.
Bonus Track: "Everybody's Dixie"
Horton performs extra verses for those partial to the South in "Everybody's Dixie."
Video: Bing Crosby sings "Dixie"
Minstrel shows aren't ancient history.  A black-faced Bing Crosby performed this version of "Dixie" in a 1943 movie of the same name.
Music Playlist

Dixie (I Wish I Was in Dixie)

Artist:

Patriotic Fathers

Album:

American Celebration - The Ultimate Patriotic Music Collection (July 4th - Memorial Day - Labor Day)

Label: BFM Digital

"Dixie"

Album:

music from the 1943 motion picture "Dixie"

Everybody's Dixie

Album:

Homespun Songs of the C.S.A. Volume 1

Label:

Bobby Horton

Union Dixie

Album:

Homespun Songs of the Union Army, Volume 3

Label:

Bobby Horton

Dixie

Album:

Homespun Songs of the C.S.A. Volume 1

Label:

Bobby Horton

Dixie

Artist:

Attendees of the 2011 Lee-Jackson Day Ceremony

Album:

Live performance in the Lee Chapel, Lexington, VA