Go the Fuck to Sleep: A Bedtime Book for Grown-Ups
Blog: 06.14.11
Tuesday, June 14, 2011 - 05:50 PM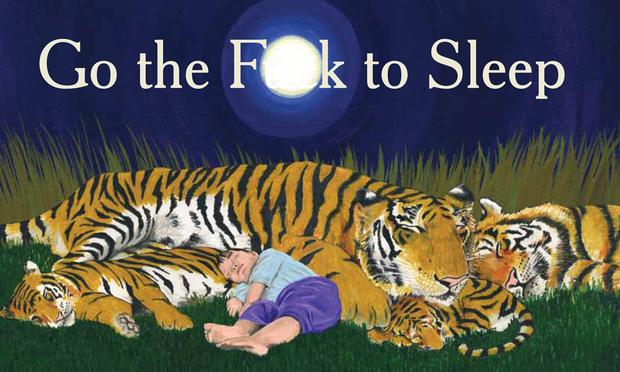 (Courtesy of Akashic Books)
Just in time for Father's Day, Adam Mansbach's big time, bedtime book for grown-ups was officially released today; it's been the most-discussed item in publishing for months, after a pirated PDF version went viral. Go the Fuck to Sleep (the delicate obscuring of the middle letters appears only on the cover) has already been a gigantic success for small press Akashic Books, which typically publishes literary fiction, noir, and counterculture nonfiction, with an estimated 350,000 copies in circulation before the end of this month. GTFTS is currently number-one on Amazon's bestseller list, surpassing Laura Hillenbrand's Unbroken  and Tina Fey's Bossypants.  
It can be hard to put a child to bed. Very, very hard. With artist Ricardo Cortes, Mansbach appropriates the classic model of a bedtime story — think Time for Bed, or Goodnight Moon — to expose the raw angst that builds when a ritual takes way too long, way too often. Beneath the crudeness of the joke (the f-bomb being usually good for a laugh, as comedians will attest), the 32 pages of rhyme offer an honest glimpse into the moments you will not cherish for the rest of your life:
Author Adam Mansbach
(Akashic Books)
The cubs and the lions are snoring,
Wrapped in a big snuggly heap.
How come you can do all this other great shit
But you can't lie the fuck down and sleep?
Success like this never goes unsequelled. In an interview with Smith Magazine, Mansbach says he's planning a G-rated version, so that parents and their children can bond over this modern-day classic.
Today, Akashic Books announced that the audiobook of GTFTS will be read by Samuel L. Jackson — for all you parents who want to be lulled the fuck to sleep.
More in: