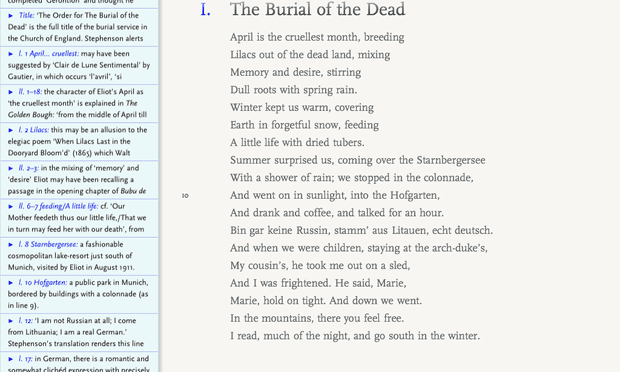 (Faber and Faber Ltd/Touch Press)
April may be the cruelest month, but June has been good for T.S. Eliot's landmark poem, The Waste Land. Eighty-nine years after it was published, the poem became a runaway hit in the form of a new iPad application that's selling like gangbusters on the iTunes store. It even briefly bumped Marvel Comics from the top spot.
The Waste Land has a formidably intimidating reputation, dense with oblique allusions; English majors spend whole semesters poring over the slim volume. Can the app, with its videos, interactive notes, and celebrity readings, improve upon one of the most important books in modern literature? Salon.com's Laura Miller told Kurt Andersen, "This app doesn't dumb down The Waste Land. It makes it feel more alive."
Bonus Track: Laura Miller's Digital Wishlist
Not every book or poem would be improved as an iPad application, but Laura Miller has a few favorites she'd like to see receive the full digital treatment. Among her top picks: The Faerie Queene, The Canterbury Tales, Beowulf, The Divine Comedy, and Ulysses.
Do you have a favorite literary work that would make a great tablet app?  Leave a comment and let us know.