Turntable.fm Brings The Human Touch
Blog: 06.28.11
Tuesday, June 28, 2011 - 06:00 AM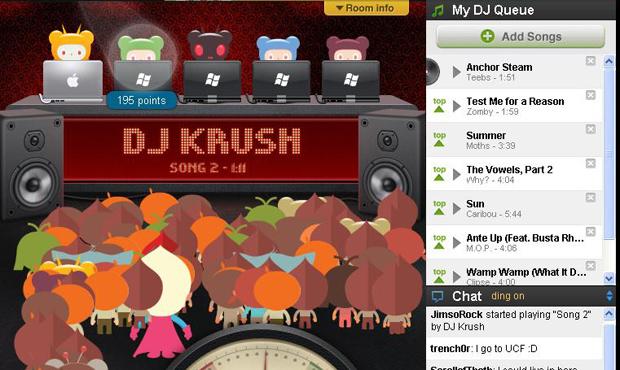 (turntable.fm)
Pandora dominates the field of music streaming, with its playlists generated by algorithm. (Founder Tim Westergren explained the process to Kurt Andersen last summer.) But a worthy opponent is emerging: Turntable.fm. Instead of sophisticated algorithms, Turntable.fm has you and your fellow listeners do the work of playlisting for each other. In the first month, the site claims 140,000 users, suggesting that the programmers might be missing something.
Turntable.fm puts streaming music in the context of a virtual club with social networking features, like a cross between Second Life and Grooveshark. You log on through Facebook and are assigned an avatar; then you can enter dozens of different "rooms," each playing a different genre or theme. You wander from "Indie/Chill Acoustic" to "Hip Hop — All Eras — Just Dope" to "The Coding Soundtrack," where a particularly avid user named DJ Wooooo spends hours spinning for Silicon Valley programmers.  Anyone can DJ; the slots are first-come-first-served. Listeners influence the mix with a chat sidebar, and by flagging tracks as "awesome" or "lame." DJs accrue points from "awesome" ratings.
When the DJs are good, Turntable.fm proves the value of people as musical tastemakers. I recently discovered three new bands in under 30 minutes, all played by other music geeks who know how to read the feel of the room. Pandora, by contrast, tends to play me things I'm already familiar with. As anyone who's been stuck in a computer-generated black hole can attest (Radiohead again? really?), there is no substitute for intuition — at least not yet. The economic genius is that, compared to Pandora (where the staff codes every track of music), Turntable.fm has almost no employees: you do the work. And if you don't like the music you're hearing, you don't blame an algorithm. You have a real person to declare "lame." Awesome.
More in: