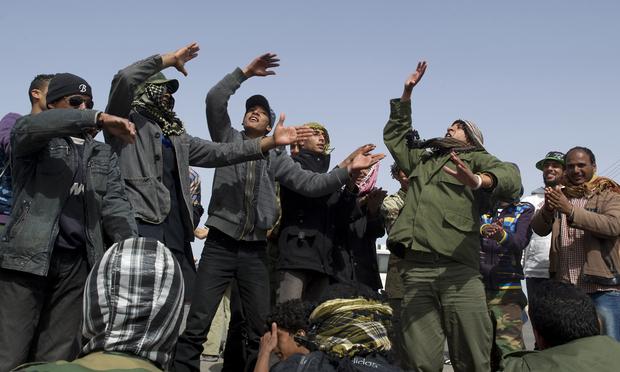 (Odd Andersen/AFP/Getty Images/Getty)
The political and military chaos in Libya is about to enter its sixth month. As the rebels wage war against Muammar Gaddafi from their capital in Benghazi, and NATO air strikes continue to target his forces, subtler forms of protest that don't make headlines are sustaining the rebel cause.
Libyans are writing their own musical soundtrack to the war, expressing themselves in ways forbidden under the regime, and painting anti-Gaddafi murals and cartoons. These are important gestures of freedom in one of the Arab world's most totalitarian countries.
Khaled Mattawa
Kurt Andersen spoke with the poet Khaled Mattawa, who was born in Benghazi, about the importance of music and art to the revolution. Mattawa teaches creative writing at the University of Michigan and has been following the nascent culture of the Libyan revolution closely. He says that American-style hip-hop (with Arabic lyrics) has been an especially effective mode of protest: "It was a way to tune out, to almost drown out any noise coming from the regime, to have a forum for expressing anger."
Songs dedicated to the rebel fighters, to Benghazi, and to the besieged city of Misrata are providing consolation and encouragement. But the Gaddafi regime is also taking the cultural front seriously. Mattawa told Kurt that artists have already been assassinated by Gaddafi loyalists: "They can't get to the politicians, but they feel if they can cause any harm to the cultural or media aspects of the new revolution, they still want to do it. The question, of course remains, 'What will Libyan culture be once the dictator is gone?'"
More culture at the revolution: Studio 360's coverage of the music, poetry, and art that surrounded the Egyptian revolution.
Music from the Libyan revolution: Music is woven into the Libyan revolution. The rapper who calls himself Ibn Thabit wrote a hip-hop paean to the city of Benghazi and an anonymous author has expressed solidarity with Misrata through more traditional Arab pop music. In the video below, the tea-maker Jumaa Al-Furjani sings an anti-Gaddafi song he created by altering the lyrics to an existing song that was supportive of the dictator.
Music Playlist

Libyan Warrior Song

http://www.reverbnation.com/IbnThabit1#!/artist/artist_songs/1285476

Ya Misrata

http://www.youtube.com/watch?v=-ADHtsD9DSU