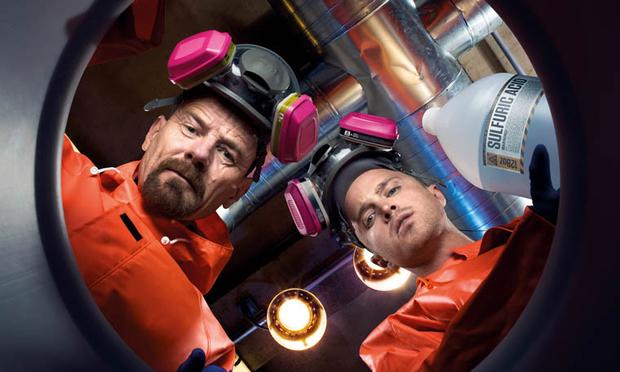 (AMC)
"I am amazed that this show is on the air — constantly amazed — because on paper this show shouldn't work," Breaking Bad creator Vince Gilligan tells Kurt Andersen. It's no wonder he feels that way.
Breaking Bad is the story of Walter White (Bryan Cranston), an underachieving high school chemistry teacher and suburban dad in Albuquerque, New Mexico, who is diagnosed with terminal lung cancer. He begins cooking crystal meth in desperation, worried about his medical bills and the future of his pregnant wife and handicapped son.  But it gets worse: as the series progresses, Walter spirals downward from a good person making bad choices into a remorseless drug kingpin. "We're taking our good guy and we're making him bad," Gilligan said.
Vince Gilligan (Craig Barritt/AMC)
Breaking Bad has attracted legions of fans, plaudits from critics, and a number of awards, including three best actor Emmys for Bryan Cranston. Breaking Bad begins its fourth season on AMC in July. "I hope you're not afraid of the dark," Gilligan warns fans of the new season, "because the show gets a lot darker at times than it has been in the past."