(Courtesy of Adrian Bejan)
Over the last 16 years, the mechanical engineer Adrian Bejan, now a professor at Duke University, has been working on a theory for how the world works. It's a theory of everything: how living creatures are shaped, how lava flows down mountains, how snowflakes form, how people organize our societies. It's called the constructal law.
The fundamental idea is this: Everything that moves, whether animate or inanimate, is a flow system. A flow system "wants" to flow more efficiently, and over time will shape itself to do so. Therefore the similar shapes of tree branches and river deltas, according to Bejan's theory, are not accidental, but the result of a flow that connects one point to a large area, with infinite points. His new book Design in Nature: How the Constructal Law Governs Evolution in Biology, Physics, Technology, and Social Organization shows how constructal law applies to power grids, the arteries and veins of our bodies, even the structures of corporations.
For Bejan, constructal law is not just a matter of descriptive science; it "defines what life means ... To be alive is to be a flow system that's free to change its configuration over time."
→ Where do you see the Constructal Law at work in the world? Tell us in a comment below.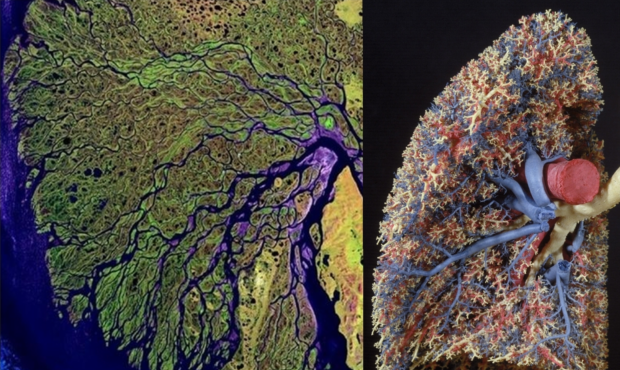 Flow systems in action: the delta of the Lena River in northern Siberia (left)
and a cast of a human lung (right). (A. Bejan/Doubleday)
Music Playlist

All the Trees of the Filed Will Clap Their Hands

Artist: Sufjan Stevens

Album: Seven Swans

Label: Sounds Familyre

Ten-Day Interval

Artist: Tortoise

Album: TNT