A few years ago when the Israeli director Joseph Cedar approached financiers with his latest film idea, they didn't know what to think: "This is a film about two Talmudic philologists competing for the top award in an area that no one has ever heard about. It's very hard to sell a project with this story," Cedar tells Kurt Andersen. But he did. Footnote has received a lot of international attention, including the best screenplay prize at Cannes in 2011 and an Oscar nomination for Best Foreign Language Film. It opens across the United States this weekend.
Set in contemporary Jerusalem, Footnote explores the intense rivalry between an elderly professor father, Eliezer Skolnick, and his middle-aged professor son Uriel. They are both scholars of the Talmud, one of Judaism's central ancient religious texts. The plot focuses around a mix-up over a major national prize, which may result in the wrong Skolnick receiving it. Although the drama plays out in a narrow academic field, to the family members the stakes are incredibly high.
At last month's Academy Awards, one of Footnote's fellow nominees was Iran's A Separation, which took home the prize. Given the current political situation between the two countries, some media couldn't resist turning the Oscar race into a competition between Israel and Iran. Cedar tells Kurt that the awards "created a remarkable situation where these two countries were meeting in a cultural arena that was complimentary to both these cultures. But above us and around us the hostility is tremendous. I think the Iranian director is in an incredibly difficult situation."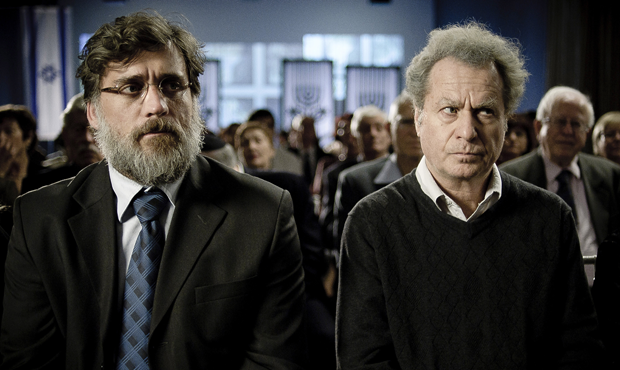 Lior Ashkenazi (left) and Shlomo Bar Aba (right) in Footnote
(Photo by Ren Mendelson, Courtesy of Sony Pictures Classics)
Music Playlist

Main Title

Album: Footnote - Original Motion Picture Soundtrack

Fortune

Artist: Little Dragon

Album: Machine Dreams

Label: EMI UK

Minor Swing

Artist: Django Reinhardt