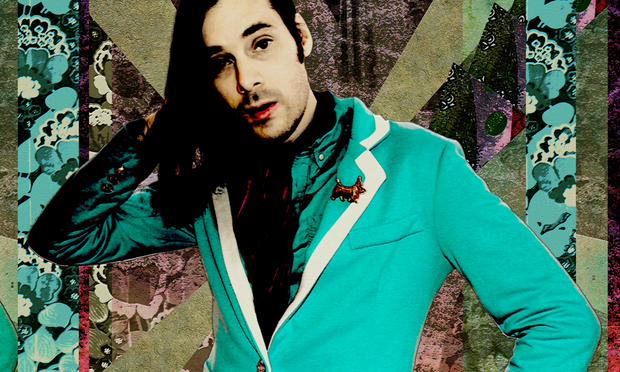 (Nina Barnes)
The band Of Montreal is known for its theatrical, over-the-top shows. Frontman Kevin Barnes' antics and flamboyant costumes recall the heyday of glam rock.
Barnes wasn't a born performer — as a teenager, he was a loner, painfully shy. On a family camping trip, his uncle brought along a guitar and taught Barnes how to play "Under My Thumb" by the Rolling Stones. "It was sort of a revelation for me — you can learn those simple [chords] pretty quickly, and then the whole world of pop music opens up to you," remembers Barnes. After he learned the Stones' catalogue, Barnes started writing his own songs.
Although he fell in love with the pop of the 1960s, Barnes' own songwriting evolved into something more complex. Of Montreal's songs are busy patchworks of chords, melodies, and tempos. But if there's one thing the Rolling Stones taught him, it's the value of a hook: "not a generic hook, but something that feels special and has that magical spark to it. That's the thing about the Stones: they always had really great melody lines — and they're fairly simple — but each one's fantastic."
Of Montreal's new album is Paralytic Stalks.
→ Is there a book, movie, album, or other work of art that has changed your life?
Tell us in a comment below or by email.

Bonus Track: Kevin Barnes covers the Rolling Stones' "Under My Thumb"
Video: The Rolling Stones perform "Under My Thumb" on Ready Steady Go! (1966)
Music Playlist

Under My Thumb

Artist:

The Rolling Stones

Label: Abkco

Coquet Coquette

Label: Polyvinyl Records

Let's Spend the Night Together

Artist:

The Rolling Stones

Album:

Singles Collection: The London Years

Label: Abkco

Mother's Little Helper

Artist:

The Rolling Stones

Album:

Singles Collection: The London Years

Label: Abkco

She's a Rainbow

Artist:

The Rolling Stones

Album:

Singles Collection: The London Years

Label: Abkco

Tim I Wish You Were Born a Girl