A new kind of leading man has taken hold in Hollywood: the lovable loser. Steve Carrell, Seth Rogen, Jonah Hill — they're not suave and handsome, they're geeks and schlubs. Judd Apatow introduced these characters as comedy stars (starting with The 40-Year Old Virgin), but the emerging master of the genre is Mark Duplass. Together with his brother Jay, Mark Duplass has written and directed smart, affecting comedies about these losers. Their latest film, Jeff, Who Lives at Home, stars Jason Segel as a 30-year-old stoner settled in to his mother's basement. 
But Duplass sees more to characters like Jeff than a loafing slacker who can't grow up. "He believes so deeply that the universe has something great in store for him," Duplass explains to Kurt Andersen. "He's willing to wait patiently like a springed coil and he won't subscribe to anything in life that's mediocre. So you can say that he's a slacker or you can say he has the utmost integrity. His ambition just happens to look very sedentary."
A hallmark of Mark and Jay Duplass' films is a comic intimacy. Instead of the bigger, more ambitious plotlines common in Hollywood, their focus is "epically small… those little glances that happen between couples and siblings and friends that make the audiences work for it and tune in. Finding big themes and big relatable human interactions in very, very small moments." A key to that feeling of authenticity is improvisation. The scripts are often just templates for the scene that the actors will realize on set, sometimes shocking themselves and each other. Duplass takes Kurt through a scene from Cyrus in which Jonah Hill's character is driving an uncomfortable wedge between his mother, played by Marisa Tomei, and her boyfriend, John C. Reilly. "I don't know what's going to happen, because the actors don't actually know," he says. "And that's hard to come by."
Immature, unambitious — Duplass himself is the polar opposite of the boy-men he puts on screen. Next month he's starring in two films, Your Sister's Sister and Safety Not Guaranteed; he has a recurring role on the FX show The League; and if that wasn't enough, another Duplass brothers film comes out, The DoDeca Pentathalon. The brothers are so productive, he thinks, because they balance each other out. "Left to my own devices I'd probably make ten mediocre movies a year and I'd be dead by 40. And Jay, left to his own devices, would make three-quarters of the greatest film ever made before he died but he'd never finish it."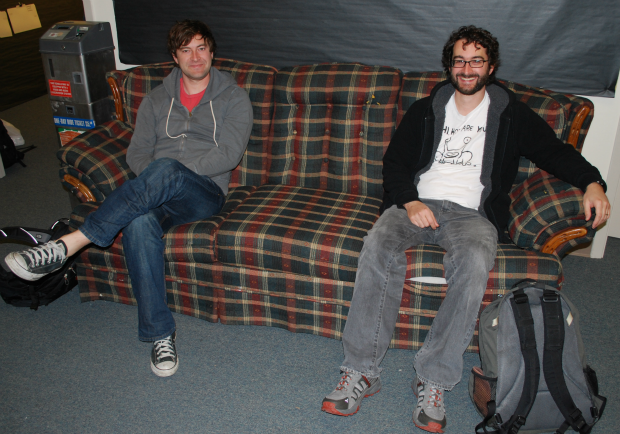 Brothers Mark and Jay Duplass.
Music Playlist

Fisticuffs

Artist:

Volcano I'm Still Excited

Album:

Volcano I'm Still Excited