In Lorraine Hansberry's 1959 play A Raisin in the Sun, a black family buys a house in an all-white neighborhood — and even before they move in, the neighbors are up in arms. Karl Lindner, a member of the Clybourne Park property owners association, visits the buyers, suggesting that "Negro families are happier when they live in their own communities."
Clybourne Park, on Broadway now, is set in that very same house. It is "sort of a parallel play," explains playwright Bruce Norris. Act 1, set in 1959, picks up Hansberry's character Lindner, now trying to convince the white owners to void the sale. Act 2 picks up in 2009. The house and the neighborhood have long been black-owned. But now white owners plan to raze the building, and members of the black property owners association protest the gentrification they fear will ruin the neighborhood.
In both eras, Norris' characters haltingly discuss the significance of who owns the house, and it quickly devolves into a confused shouting match that exposes prejudices on both sides. The play is a frank, even inflammatory conversation about race and class, and won the Pulitzer Prize in 2010. (See images of the house below.)
"It was very important to me to depict the people in 1959 as people with good intentions," Norris tells Kurt Andersen. "They're not racists in the KKK way — they're people who think that they're doing the right thing to protect their neighborhood and their children and their real estate values. But that's a form of self-interest that has as its unfortunate byproduct a really racist outcome."
There's no "good guy" in Clybourne Park. "Audiences have this sort of childlike need to identify who their hero is in a story and to root for them and get behind them," says Norris. "And one of my favorite things to do as a writer is to confound that impulse."
Norris began his career in theater as an actor, but explains "because I'm a very difficult, contrary, unpleasant, irritating human being, I'm not the right psychological type to be an actor." Clybourne Park, like many of Norris' other plays, came out of a disagreement with friends. "I tend to get in arguments with people a lot," he admits. "And more often than not I lose the argument. So I go home and I stew about why I lost. And after I stew for a long enough time, I divide the argument up between various voices, various people. And that's usually the genesis of a play. It's the endless contentious replay of the argument in my head."
Bonus Track: Kurt's extended conversation with Bruce Norris
Some highlights:
8:50 — Sensitive liberals: "The market for new plays is by and large liberal leaning people," Norris says. "The one thing that's really predictable about them is that they don't like to hurt peoples' feelings. That sometimes overrides any other concerns."  But he thinks they can take it. "I'd like to think that we are strong enough as a political contingent that we can withstand some scrutiny."
9:40 — White flight: Norris believes today's white flight isn't to the suburbs, but to the private schools. "We have privileged white people removing their children from the public school system in order to protect their children's interests," he says. "It's just a different kind of boundary."
13:49 — '50s Charm: Asked about recreating 1950s speech patterns, Norris points to Mitt Romney. He compares the presidential candidate's folksy mannerisms to Richard Deacon in Leave It To Beaver: "like he could sell you toothpaste in a Pepsodent commercial or something. ... Charming and chilling."
24:35 — High-profile falling-out: Scott Rudin, one of Clybourne Park's producers, abruptly pulled out of the show after Norris turned down a part in a TV adaptation of Jonathan Franzen's The Corrections. The falling-out imperiled the Broadway production, but Norris is tight-lipped on the incident: "No comment. Nice guy, great project, no comment."
27:50 — Pulitzer Prize: "I thought you could wear it, like you could have it around your neck. But it's a crystal paperweight, and it's pointy."

→ More conversations with 2012 Tony Award nominees

Slideshow: Clybourne Park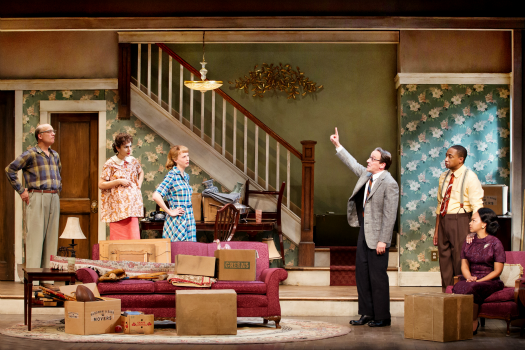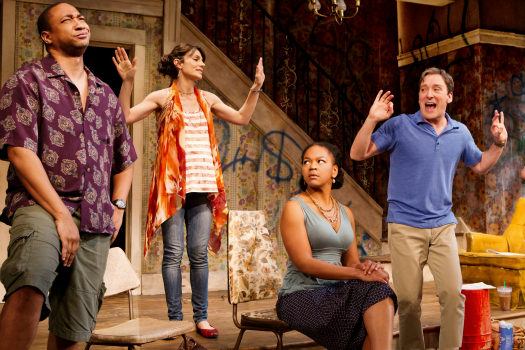 Music Playlist

Catch a Falling Star

Label: Triage Entertainment