Porgy and Bess was groundbreaking: an opera about poor African-Americans in South Carolina, starring a cripple, a tramp, and a drug dealer. There's a new production on Broadway now entitled The Gershwins' Porgy and Bess, but it's not the one George and Ira presented in 1935. Audiences get new dialogue, back stories, and orchestrations courtesy of playwright Suzan-Lori Parks, director Diane Paulus, and musical director Deirdre Murray.
Parks, a Pulitzer Prize winner, was approached by the Gershwins' estates to turn the opera into a musical — it won two Tony Awards this spring. "Right away it was very clear that these people who were singing these songs of love and passion, triumph and failure," she tells Kurt Andersen, "they deserve a story that is equal to it." She saw her job as not to rewrite but to fill in. "Dramaturgically, there are some holes in it," she explains. "We just added a bridge — it's a bridge not just to fill in a gap, but to provide Porgy and Bess, and the whole community actually with a strong story arc."
Even before the show opened, traditionalists were distressed. Stephen Sondheim wrote a fiery letter to the New York Times blasting the production, in particular its title: "In the interest of truth in advertising, let it not be called The Gershwins' Porgy and Bess, nor even The Gershwin-Heyward Porgy and Bess. Advertise it honestly as Diane Paulus's Porgy and Bess. And the hell with the real one."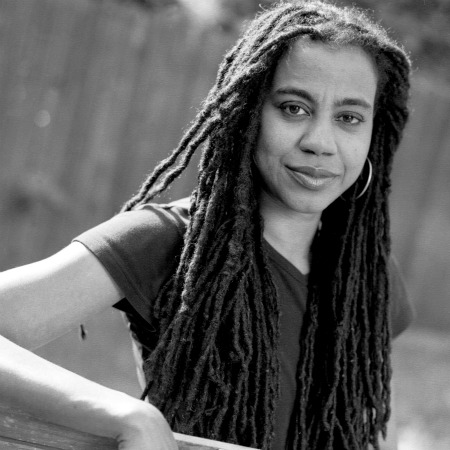 Suzan-Lori Parks (Stephanie Diani)
Parks stands by her changes and the title. "It's as if the Gershwin Estate has a brownstone, they invited me to do some work on their brownstone. It's their brownstone. ... End of conversation."
Parks remembers the first time she saw Porgy and Bess: she was in second grade and she caught the 1959 movie on "the late late late late late late late show. And five minutes of it and I just was like 'Oh, I don't think so.'" She remembers, "It looked like one of those movies where they didn't quite get to know us like I knew us."
Those inaccuracies, though, do not amount to racism, Parks thinks. "A lot of people hear 'Suzan-Lori Parks is working on [the new production],' or 'a black woman is working on it' … She'll find it racist,'" she says, frustrated. "And me, I'm sitting here as a Pulitzer Prize-winning, MacArthur 'genius' writer. I look at it, yes, as a black woman, but also as a writer."
(Originally aired: January 13, 2012)
Video: "Bess, You Is My Woman Now," performed by Norm Lewis and Audra Macdonald
Music Playlist

Summertime

Artist: George Gershwin

Album: Porgy & Bess [Original Recording Remastered]

Label: Shout Factory

Summertime

Artist: Ella Fitzgerald

Album: Pure Ella

Label: Verve

Love

Artist: Air

Album: Love 2