Can Art Spark a Discovery in the Lab?
Blog: 07.31.12
Tuesday, July 31, 2012 - 06:00 AM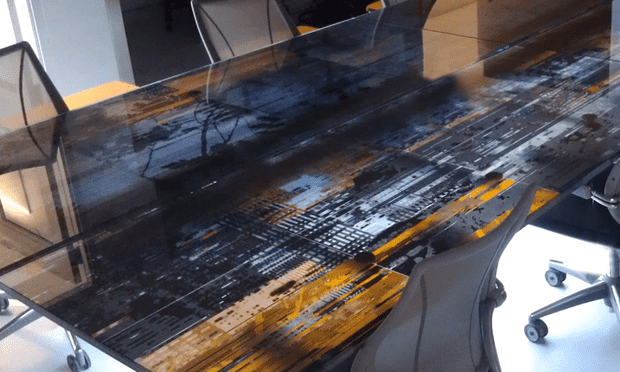 Andre Fenton didn't want his new neurobiology lab at New York University to look like the traditional research space: a mishmash of drab office furniture and cluttered lab benches harshly lit by rows of fluorescent lights. That's why its core holds a 15-foot-long, one-inch-thick slab of glass. The image on its surface — a mottled mix of black, white, and orange — appears abstract but if you step back, you can pick out recognizable elements: rows of high-rise windows and tree branches. The glass weighs half a ton, yet it appears to float above the floor. This work of art by Shuli Sadé, titled "Encode/Decode," serves as the lab's conference table.
Fenton and his team study memories: how they're formed, managed, and stored. And the image on the table is not unlike a memory. To create it, Sadé combined a black and white photo of the Midtown skyline at night with an image of the foliage in Central Park. Then she began selectively removing and altering pixels. The image has been distorted and fragmented, Fenton says, just as memories in the brain are distorted and fragmented. So in a sense, the table contains memories of Central Park and the Midtown skyline. "They appear together in this space kind of like how they appear together in your brain," Fenton explains. "They are encoded in an interlocking, intermingled manner."
Parts of the table also resemble data Fenton and his team see in the lab. For example, some of the choppy lines in the image recall the barcode-like graphs called "raster plots" that the researchers use to represent brain activity in rats.
"Remapping" — from Shuli Sadé's Reconfiguring Memory
The table is the centerpiece of a larger project called Reconfiguring Memory, which includes several videos that play on flatscreens scattered throughout Fenton's lab. In the videos, the same overlapped image of Central Park and Midtown gradually dissolves and reappears, accompanied by the sounds of traffic and a series of hisses and clicks: Fenton's recordings of the electrical activity of rat brain cells.
Fenton hopes the glass slab will serve as more than just a pretty conference table. His team is often mired in the minutiae of their research, measuring one specific protein or recording the activity of a single neuron. "You can't be thinking big thoughts when you're trying to measure hard-to-find proteins," Fenton says. As they gather around the table and gaze at the buildings of Midtown, he hopes they'll be reminded of the larger goal and have conversations that will spark new insights.
But Fenton hasn't explained any of this to his team. He wants them to get it on their own, in their own ways. It's an experiment of sorts. Although he doesn't yet have evidence that the table is making a difference, it seems to be bringing the team together. "People like being here," he says. And that's a start.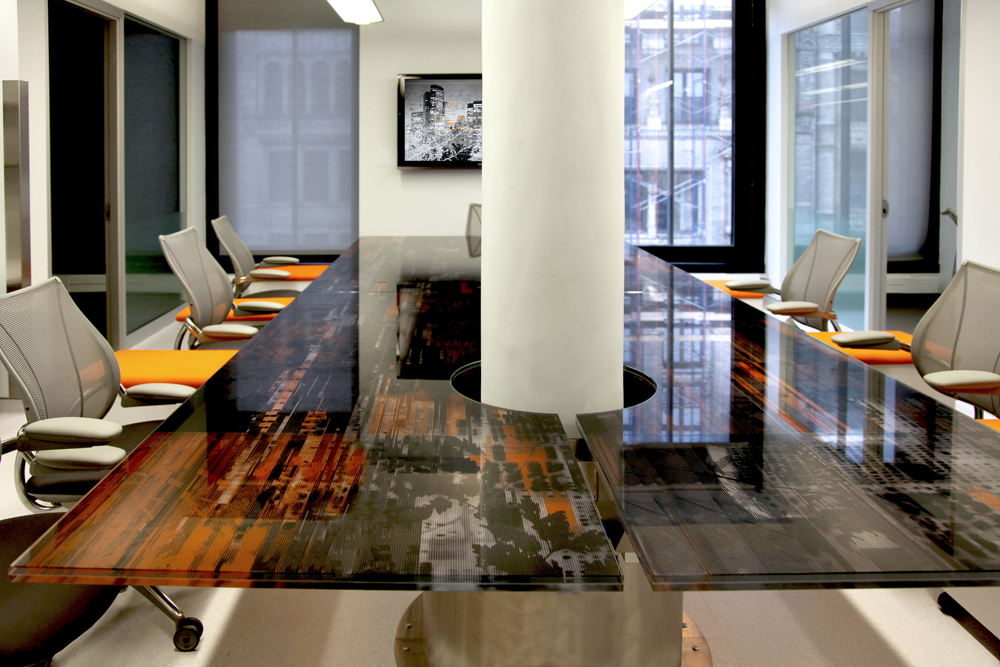 Shuli Sadé's "Encode/Decode" at Andre Fenton's New York University lab
More in: