Earlier this summer, one second was added to the earth's official atomic clock. Turns out the earth is slowing by a few milliseconds a year. If we didn't add these "leap seconds" to the official world clock every few years, experts say the time could stack up and ultimately mess up the calendar.
A much more radical slowing of the earth is the premise for Karen Thompson Walker's debut novel The Age of Miracles. In her story, the earth's spinning slows down by an hour — within a few months, a full rotation takes 40 hours. Scientists are stumped. The concepts of "day" and "night" break down, gravity shifts, whales beach themselves. People build panic rooms and stock them with food and supplies. The government imposes a 24-hour clock, but there are resisters (called "real timers") who are determined to live their lives according to the actual sunrise and sunset.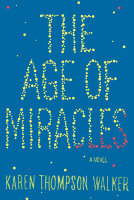 (Random House)
Walker's protagonist is an awkward eleven-year-old named Julia, who lives in a suburban cul de sac in Southern California. She's had a tough time making friends in middle school and it's gotten even tougher since the "slowing." She must spend her school days in darkness and sleep during long stretches of sunshine.
Walker says growing up in California she was always aware of the tension between the natural beauty of her surroundings and the looming danger posed by earthquakes and brush fires. "I don't know if every child was as haunted as I was," Walker tells Kurt Andersen. She remembers stocking up on disaster preparation supplies at the start of every school year. "We had to pack a Ziploc bag full of three days of non-perishable food that we would eat if the big one struck while we were at school and were stranded. I remember thinking, 'What situation is this where I can't get home to my parents for three days?' Being a future storyteller, I quickly imagined."
Music Playlist

Home

Artist: Daughter

Album: The Wild Youth

Label: Glassnote

Love Love Love

Artist: Of Monsters and Men

Album: My Head is an Animal

Label: Universal Republic