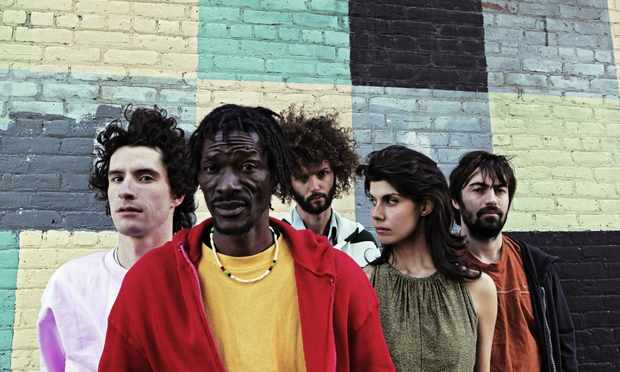 (Courtesy of Big Hassle)
Janka Nabay calls himself "the Bubu king." The Sierra Leonean musician took an ancient style of Muslim ritual music and transformed it into pop, using keyboards and drum machines. It's almost impossible not to dance to its infectious, frenetic beat. The new style made Nabay a national star in his home country.
But after Nabay fled Sierra Leone's civil war — he had become popular with the rebels, and he feared arrest — he fell into obscurity. A producer named Wills Glasspiegel found Nabay working in a fried chicken restaurant in Philadelphia, and convinced him to get back on stage. But instead of other Sierra Leonean players, Nabay's new band is made up of Brooklyn-based indie rockers who call themselves the Bubu Gang. "I remember constantly being surprised by where Janka would decide to come in, or where his phrasing sat in a song," says Bushra El-Saadi, Nabay's back-up singer. "Musically, I was just like, what the hell is this? I want to try it."
The band's debut album En Yay Sah just came out on Luaka Bop records. "It's not like a band covering music from Sierra Leone," says label executive Yale Evelev. "It is really an invention of Sierra Leonean music and other musics — American musics, Brooklyn musics, whatever you want to call it — and it's seamless. It's not something that's a version of something." But Nabay's success is far from certain. Unlike many indie rockers, Nabay doesn't have a financial safety net to hold him during the long slog of playing shows and trying to sell records. "Inshallah, I pray to God for things being better, because the musical struggle is too much for me," say Nabay. "But I'm seeing it that sometime it's gonna be. I don't know when, but it's gonna come."
Bonus Track: Janka Nabay, "Feba" — from the album En Yay Sah
Music Playlist

Eh Mane Ah

Artist:

Janka Nabay & the Bubu Gang

Label: Luaka Bop

Eh Congo

Artist:

Janka Nabay & the Bubu Gang

Label: Luaka Bop

Ro Lungi

Artist:

Janka Nabay & the Bubu Gang

Label: Luaka Bop

Kill Me With Bongo

Artist:

Janka Nabay & the Bubu Gang