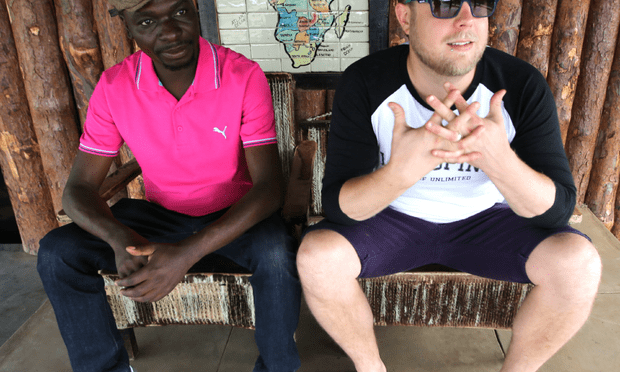 (Niall Kenny)
A few years ago in East London a music producer named Johan Hugo walked into a junk shop owned by Esau Mwamwaya. Hugo needed a session percussionist and asked Mwamwaya to audition for him. It turned out Mwamwaya was a much better singer than drummer, and especially skilled at harmony. They quickly became collaborators, billing themselves as The Very Best. Their 2009 debut album featured the dance hit "The Warm Heart of Africa." The title refers to the East African nation of Malawi, Mwamwaya's home country.
The band's new album is MTMTMK, and for months they kept the meaning of the cryptic title secret. "When we toured the first album, we noticed quickly that Malawi was not a country people were familiar with," Johan Hugo explains to Kurt Andersen. "If they knew anything at all: 'Isn't that the country Madonna adopted her kids from?' So we started saying 'there's more to Malawi than Madonna's kids," and the album got its name. The song "Yoshua Alikuti," for instance, is a political allegory about the late president of Malawi whose reform movement fizzled.
Joining Hugo and Mwamwaya on the record and the band's US tour this summer is the London-based musician Seye. His parents are from different parts of Africa, but Seye admits that his exposure to Afropop came from an unlikely source. "I hark back to people like Paul Simon [and the album] Graceland," Seye tells Kurt. "How weird being African but, you know, it's an American dude whose music I heard first."
The Very Best wraps up its US tour this week in California.
Video: "Kondaine," The Very Best featuring Seye